INTRODUCTION TO THE PROBLEM
E-commerce today is a dynamically developing industry, characterized by an ongoing modernization of business processes. The high level of competition forces market operators to be in constant search for innovations and to optimize their current activities. This applies as a top priority to pricing processes, since price has been and remains the fundamental competitive advantage in online retail. Company executives define pricing as the most important leverage they have over consumers, therefore all market operators are striving to improve their pricing strategy and tactics, constantly on the lookout for new tools in order to optimize the process of setting and updating prices
Pricing in online retail is associated with the following features:
Information transparency of the market: the Internet has minimized the transaction costs for buyers to search for information about prices on the market. Marketplaces, special services and software, including for mobile devices, make it possible to get a complete map of prices for almost any product in a matter of minutes;
Highly dynamic pricing by market operators: online stores are able to change prices for their goods daily, and if necessary, up to several times a day. In light of this, companies must adapt to the constant changes in internal and external conditions that affect the price.
Personalization of product offers and price offers: based on analysis of data about previous purchases, online stores offer their customers special offers, selecting those products that they are most likely to want to purchase. The same applies to discount coupons and other bonuses that companies constantly offer their customers to their personal accounts, as well as via e-mail and SMS circulation.
Active use of big data analytics: in their pricing and assortment strategies, online stores actively use huge amounts of information about customer preferences, including reviews on social networks or specialized forums and so on. With the help of this type of analysis, market players identify non-obvious connections between phenomena, predict market trends, offer customers what they want, even before the customers themselves realize a need for the product.
The above features of the e-commerce market force participants to quickly switch to dynamic pricing models, because this is the only way to stay afloat in modern conditions. Most of the major players have long since introduced such models and are constantly improving upon them, trying to get ahead of their competitors in the race to implement their proprietary knowledge.
Pricing in online retail is increasingly affected by the development of omnichannel sales. Not so long ago, online stores were distinguished by their lower prices, explainable by the lack of any need to rent retail space, hire sales assistants, and so on. Today, this statement is already controversial, since prices in online and offline stores may differ only slightly, and during sales, offline players can even offer lower prices than their e-commerce competitors. This has led to a situation where online retailers are now trying to factor the offline prices of their competitors, not vice versa.
These features in the current state of ecommerce show how complex the pricing process has become for its participants. In order not to lose out on profits, market share, turnover and their customer base, companies in this environment must precisely and consistently lay out their pricing strategy and tactics. Towards this aim, separate teams are being created responsible for prices and monitoring of the competitive environment, and likewise, pricing information systems are being developed and implemented. An example of one such system implemented on the SAP platform is called Smart Pricing, from the specialist company Sapiens solutions.
ARCHITECTURE AND OPERATING PRINCIPLE OF THE SYSTEM
The pricing information system is represented by three technological components:
SAP platform, functioning in the HANA DBMS.
BRF+ Toolkit (Business Rule Framework plus) is a tool for creating rules and calculation algorithms built into the SAP platform.
Smart Pricing for SAP HANA (SPSH) add-on deployed over the SAP platform and extendable to meet the needs of specific customers.
The SAP platform contains directories, as well as source data for pricing. If necessary, the source data is loaded from other systems and external services. Keeping the data up to date, in this case, is taken care of by standard SAP automated tools. Analytical reports in the system are also configured with standard SAP tools.
The BRF+ toolkit allows the business to effectively meet its needs of creating and updating price calculation algorithms and rules, without requiring the help of IT specialists. BRF+ supports the required capability to designate authorizations for different levels of settings, it comes with built-in tools for checking the correctness and integrity of the algorithms. BRF+ supports the division of objects into local and global, which allows algorithms to be divided into those which are end-to-end, applying to the entire system, and local — for specific cases. The key objects used within the BRF+ system are decision tables and formulas.
The Smart Pricing for SAP HANA add-on
is the core of the pricing information system and includes:
Price Processor to perform price calculation, tools for parallelizing calculations, tools for logging calculations.
User interfaces made on the web using FPM technology (Floorplan Manager for Web Dynpro ABAP):

Workplace for the specialist responsible for price calculation.
Data tracing interfaces and calculation control interfaces.
Auxiliary interfaces.

A data virtualization layer that links source data to program structures which perform pricing (ABAP CDS).
To meet the business requirements of the client in the process of creating a pricing system, the SPSH add-on supports a high level of customizability and extendibility, including the following features:
Setting up a multi-level logic of calculation for processing price dependencies for one product based on the prices of other products (lines, sets).
Setting up a subsystem for sending signals from the pricing system to the specialists conveying the features of calculated prices.
Development of specific interfaces, for example, for entering initial data and pricing parameters.
Setting up integration with systems for price execution.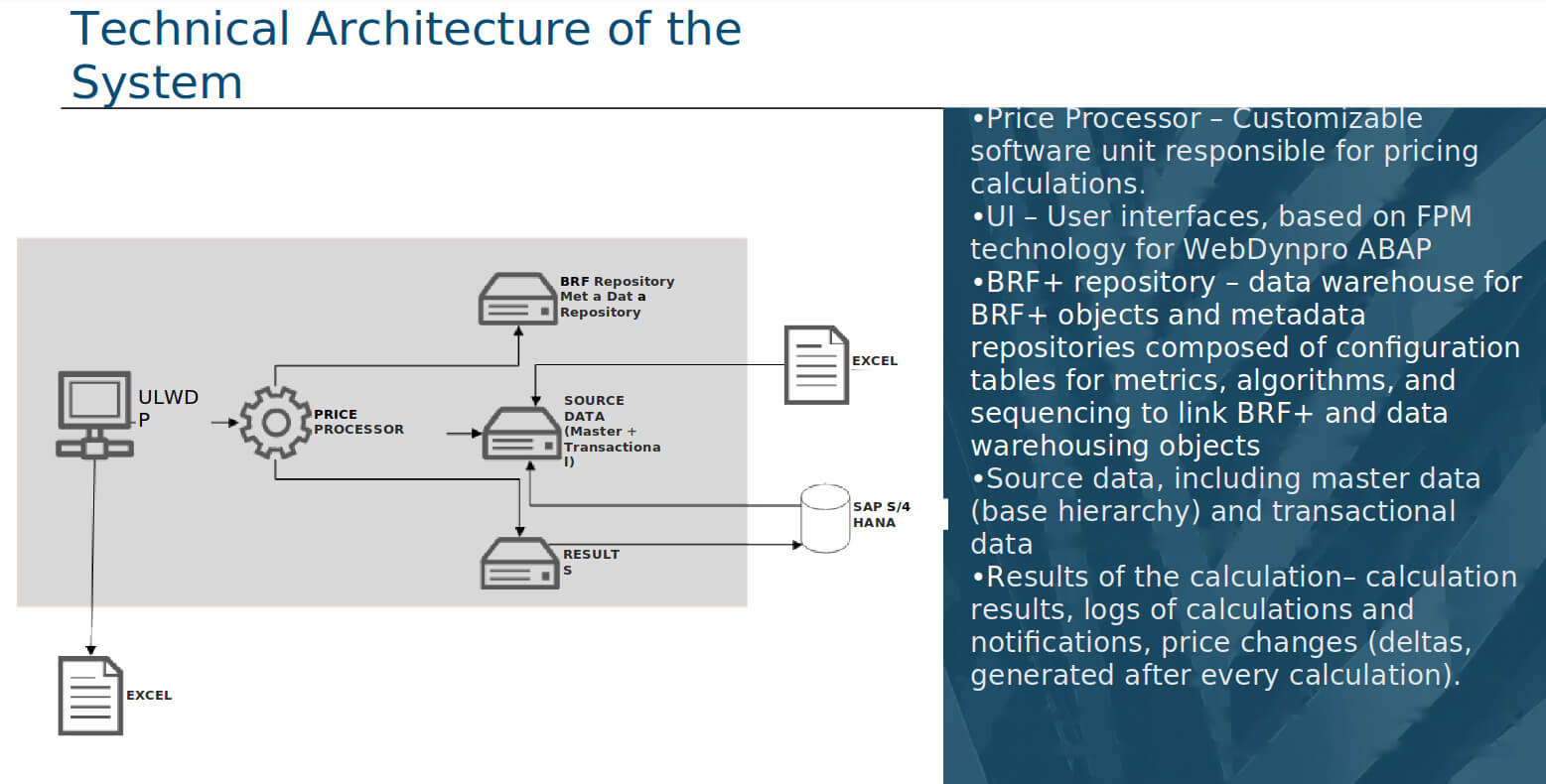 How the system works:
The system configuration specialist updates the strategies and pricing rules in the system.
Pricing strategies and price calculation rules are set at any level for the product hierarchy, product characteristics, and territorial attributes.
Initial data (prices of competitors, etc.) for price calculation are loaded from external services and internal systems. Many required indicators are already, as a rule, stored in the SAP platform, thanks to related business processes (sales, purchases, etc.)
New prices can be released either according to a pre-determined business schedule or on demand. The calculation results are verified, approved by the category manager, and submitted for price execution.
The architecture of this solution allows the client's internal team to operate Smart Pricing without involving external IT specialists for price changes. Experience has shown that it is possible for a member of an organization's pricing team with no programming skills to set up price calculation algorithms through BRF+, thereby expanding the organizational structure.
To operate the solution using SAP BW, no special skills are required beyond the competencies of the existing internal support team of the client using the SAP solution.
RESULTS OF IMPLEMENTING THE SOLUTION
Business results from the implementation of Smart Pricing for SAP HANA:
Increase in the speed of responses to actions taken in the competitive environment.
Increase in the speed of responses to changes in purchase prices, exchange rates, commodity balances, and so on.
Complete transparency of the pricing process. Historical prices are archived.
Company costs of monitoring and pricing are kept relatively constant whilst scaling up (new regions, new articles, and product groups).
Reduction in the number of pricing mistakes associated with human error.
Allows the transfer of the task of operational pricing to a separate division. This approach allows the task of price setting to be moved away from category managers, leaving them to negotiate prices.
Compliance with the company's pricing policy and prevention of its violation are controlled by the access level settings of the system.
Allows the unification of all elements of pricing, enabling the structuring of prices and their selection to be analyzed in a single informational space.
Technological results from the implementation of Smart Pricing for SAP HANA:
Creates a single information environment and standardizes the business' pricing process for all participants involved.
Assigns a separate layer of business algorithms which ensure flexibility and efficiency when making changes to the formulation and the application of rules for calculating new prices.
Successful separation of business algorithms into global algorithms for the entire system and local algorithms for individual segments of the system.
Ensures 'transparency' in the application of pricing rules. Allows step-by-step logging of calculations. Enables a process for monitoring and coordinating price changes.
Achieves high calculation performance provided the requisite server resources are allocated (for example, with 100 working processes, a calculation speed of 1500 article/territory/price option combination per second is achieved).
Automatic updating of directories that are maintained centrally within the company. Removes the responsibility of updating them from pricing specialists.
Possibility of having background recalculation of all company prices when conditions of the scenario change (for example, currency fluctuations).
Availability of analytical reporting using SAP tools.
Possibility of modeling price calculations and selection of the required strategy.
Establishes a future-proof platform open to enhancements to the pricing process without the need to overhaul the entire basis of the system.